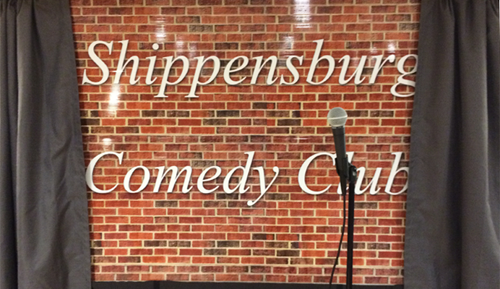 Welcome to the NEW Shippensburg Comedy Club offering shows with nationally touring headliners. We hand pick only the best comedians who are hilarious. Shows are held at the beautiful and luxurious Courtyard by Marriott located at 500 Newburg Rd, Shippensburg, PA 17257 right next to the Shippensburg University Conference Center. Full bar with drink specials, Starbucks coffee and receive 15% off dinner when you mention you're there for a show.




I go to comedy clubs all the time, but I've never laughed so hard in my entire life until this show. Earl David Reed is the bomb! Jesse Blanco was also hilarious! Thanks, Seth, for bringing some life into Shippensburg!

Reply

So grateful for Seth, I think Shippensburg really needed this. I laughed so hard it hurts. What a great time, every time we go.

Reply

Just seen Earl David Reed there. This place is what shippensburg needs. I highly recomend taking in a show there.

Reply

My wife and I seen Jesse Blanco and Earl David Reed this evening great show we will return to see more shows

Reply

It was really great and a lot of laughs! It's nice having a place like this in town!

Reply

Had a fabulous time. Enjoyed the meal first..great food! Recommend to all. Laughter is truly the best medicine! Loved the interaction with the crowd! Looking forward to another show!!

Reply

Great opening show, loved Brad. I would definitely recommend this place! Dinner before was awesome as well. I will return!!

Reply

Had a great time on Thursday night. I will definitely be attending another show in the future. FCDW

Reply

Really enjoyed the show again tonight! Donna was hilarious! Laughter is great medicine!

Reply

Omg?. Hilarious. Thanks for an amazing night of laughs!!

Reply

The World Series of Comedy showcases tomorrow's stars. See LIVE, comedians from all over the country perform their best showcase set, competing to move on to be world champion!

Headliner Mike Eagan will close the show. TV credits include Caroline's Comedy Hour (A&E), Comedy on the Road (A&E), Evening at the Improv (A&E) as well as the host of Rascal's Comedy Hour (NJ Cable) and the NBC game show IT's Rock 'N' Roll.

Come laugh at some hilarious comedy and vote to help pick the winner.
Purchase tickets through PayPal



HEADLINING THURSDAY, APRIL 13 AT 8:00PM

General Admission Tickets $15, Purchase Through Paypal (16+ Show)

Grandma Lee is America's funniest and most outrageous grandmother who is no where close to being ready for the rocking chair. Grandma Lee has been popular with TV audiences since she was a finalist on America's Got Talent. She has been a special guest on three different seasons including Top Ten Favorite Comics of Last Comic Standing and won the Las Vegas Comedy Festival at the MGM Grand Hotel.

This sassy senior has mastered the art of entertaining her audience. Grandma Lee electrifies the stage from the moment she bursts from the starting gate until she crosses the finish line. She is a pro at entertaining audiences of all ages with her unorthodox views of family, television, and life in general.



Purchase tickets through PayPal



HEADLINING SATURDAY, APRIL 28 AT 8:00PM
General Admission Tickets $15, Purchase Through Paypal
Robert Mac was the Grand Prize winner of Comedy Central's "Laugh Riots" national stand-up competition, and has appeared on Comedy Central's Premium Blend, "Last Comic Standing," NBC's "Late Friday," and The Learning Channel. He was a finalist in the San Francisco International Comedy Competition and the Boston Comedy Festival, and was the winner of the Jerry Lewis Telethon Talent Search. In 2001, Entertainment Business Journal ranked Mac 67 out of the top 100 stand-up comedians in the United States. He also performed at the prestigious Montreal Just for Laughs Comedy Festival.

Mac has also shared the stage with legends such as Robin Williams, Adam Sandler, Larry the Cable Guy, Margaret Cho and Patton Oswalt.
Purchase tickets through PayPal



HEADLINING SATURDAY, MAY 13 AT 8:00PM
General Admission Tickets $15, Purchase Through Paypal
Final show before the summer break and we are going out with a bang! Hilarious double headliner show with crowd favorites Bill Boronkay and Mark Riccadonna.

Mark Riccadonna is an actor and comedian who writes for Saturday Night Live's Weekend Update and has also made TV appearances on AXS TV's Gotham Comedy Live and Laughs on Fox. His comedy has spanned 6 continents with the Armed Forces Entertainment tour for US and UN troops. Most recently Mark had a lead role in the feature film "Days of Power". While in the US Mark tours the country and can be seen at some of the top clubs including Caroline's, Gotham, The Stand, Comic Strip Live, NY Comedy Club, the Comedy Cellar and more.

Bill Boronkay has been heard on Bob & Tom and ESPN Radio, featured on Funny or Die, and has been seen on ABC, CBS, NBC and FOX. Bill performs at the top clubs in the country including Caroline's, Broadway Comedy Club, Funny Bone, The IMPROV, Levity Live and more.
Purchase tickets through PayPal



HEADLINING SATURDAY, SEPTEMBER 30 AT 8:00PM

General Admission Tickets $20, Purchase Through Paypal (16+ Show)

Arguably one of the hardest working women in comedy today, Tammy Pescatelli brings brassy sexiness with a female voice of witty sarcasm to her audiences, holding her own on the topics of sports, television, dating and family life using tongue-in-cheek humor. She is one of the only female comedians who is relatable to every audience member-male & female. After seeing her perform, nearly everyone wishes she was their best friend or sister!

Tammy's most recent one-hour special, the top downloaded, Finding The Funny (available on Netflix & iTunes) is just one of her new and noteworthy endeavors. Including recent big appearances on The View and The Howard Stern Show and her being chosen by Jenny McCarthy & Donnie Wahlberg to be a part of their Dirty, Sexy, Funny franchise that included a hilarious all-female slate of standup comedians comedy special on EPIX/Hulu, a touring show and a pilot for A&E.

With a slew of other accolades under her belt - including co-creating, executive producing, writing and starring in her own reality show, A Stand-Up Mother, on the WeTV Network - Tammy has appeared on a number of television shows like The Tonight Show with Jay Leno (twice), A&E's Donnie Loves Jenny(twice), Bravo's Rocco's Dinner Party, CBS's The Talk, NBC's Last Comic Standing: The Best of the Best, her own Comedy Central Present Special that won that year's Comedy Central's Standup Showdown, and many, many more.

Other credits include: Sirius XM Radio, Comics Unleashed Just For Laughs The Bob & Tom Show, TapOut and Opie and Anthony.

Film credits include: Made in Brooklyn, Single: A Documentary Film and Everybody Wants to Be Italian.

Read full bio.

Purchase tickets through PayPal



HEADLINING SATURDAY, OCTOBER 28 @ 7:00PM AND 9:00PM

General admission tickets $20, purchase Through PayPal for 7PM OR 9PM. (18+ Show)

Earl David Reed is a two-time Star Search winner, and has appeared on The Tonight Show with Jay Leno, HBO, Showtime, FOX's Comic Strip Live, A&E's Comedy on the Road, NBC's Friday Night Videos and Showtime at the Apollo.

Earl can also be seen on DVD as one of Bill Engvall's All-Stars of Country Comedy with comedians Larry the Cable Guy and Jeff Foxworthy. He is currently working on his reality-based TV pilot called The Secret of My Unsuccess.

The Associated Press said "He may not be famous, but he's hilarious!" The Las Vegas Review-Journal called him "...an urban Don Rickles!" And Don Rickles himself commented "This guy works the room like a Las Vegas showgirl...funny without being offensive." Earl can be heard weekday mornings on WQXA 105.7 the X on the Nipsey, Earl and Jen Shade Show.


Purchase through PayPal for 7PM or 9PM











Home :: Buy Tickets :: Newsletter :: Partners :: Contact Us :: Venue