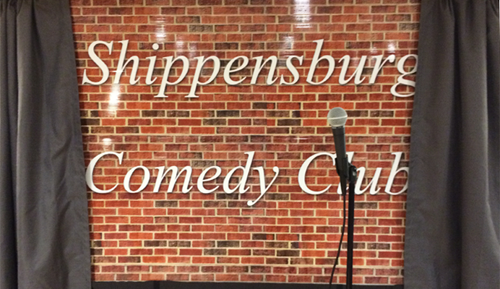 Welcome to the Shippensburg Comedy Club offering shows with nationally touring headliners. We hand pick only the best comedians who are hilarious. Shows are held at the beautiful and luxurious Courtyard by Marriott with a full bar and drink specials. We are located at 500 Newburg Rd, Shippensburg, PA 17257 right next to the Shippensburg University Conference Center.




I go to comedy clubs all the time, but I've never laughed so hard in my entire life until this show. Earl David Reed is the bomb! Jesse Blanco was also hilarious! Thanks, Seth, for bringing some life into Shippensburg!

Reply

So grateful for Seth, I think Shippensburg really needed this. I laughed so hard it hurts. What a great time, every time we go.

Reply

Just seen Earl David Reed there. This place is what shippensburg needs. I highly recomend taking in a show there.

Reply

My wife and I seen Jesse Blanco and Earl David Reed this evening great show we will return to see more shows

Reply

It was really great and a lot of laughs! It's nice having a place like this in town!

Reply

Had a fabulous time. Enjoyed the meal first..great food! Recommend to all. Laughter is truly the best medicine! Loved the interaction with the crowd! Looking forward to another show!!

Reply

Great opening show, loved Brad. I would definitely recommend this place! Dinner before was awesome as well. I will return!!

Reply

Had a great time on Thursday night. I will definitely be attending another show in the future. FCDW

Reply

Really enjoyed the show again tonight! Donna was hilarious! Laughter is great medicine!

Reply

Omg?. Hilarious. Thanks for an amazing night of laughs!!

Reply

HEADLINING FRIDAY, FEBRUARY 24, 2023 AT 8:00PM

General admission $18 + $2 convenience fee in advance ($30 at the door), purchase through PayPal.

Joey is a high energy comic who tours coast to coast. He was named the regional winner of the Sierra Mist Search for the Next Great Comic and has made appearances on the Comedy Channel and on NBC's Last Comic Standing Season 5. He has a Dry Bar Comedy special titled "Just Work With What You Got."

To say that comedy is in Joey ILO's blood wouldn't be far from the truth. He was, after all, raised by clowns! Never a stranger to the stage, Joey started performing as a musician and song writer when he was 11-years-old.

Purchase through PayPal





HEADLINING SATURDAY, MARCH 4, 2023 AT 8:00PM


General admission tickets $18 + $2 convenience fee. Purchase tickets through PayPal . (18+ Show)

Mark Riccadonna is an actor and comedian who writes for Saturday Night Live's Weekend Update and has also made TV appearances on AXS TV's Gotham Comedy Live, Laughs on Fox, and heard on Sirius XM and Bob and Tom. His comedy has spanned 6 continents with the Armed Forces Entertainment tour for US and UN troops. Most recently Mark had a lead role in the feature film "Days of Power". While in the US Mark tours the country and can be seen at some of the top clubs including Caroline's, Gotham, The Stand, Comic Strip Live, NY Comedy Club, the Comedy Cellar and more.



Purchase tickets through PayPal.



HEADLINING SATURDAY, MARCH 11, 2023 AT 8:00PM

General admission $18 + $2 convenience fee in advance ($30 at the door), purchase through PayPal.

Leland Klassen is a hilarious veteran actor comedian from Canada, who has toured all across North America for nearly two decades. He has been seen in Just For Laughs which aired on the Comedy Network, the Dry Bar special "More True," CBC television's Halifax Comedy Festival, Thou Shalt Laugh on Netflix as well as having hosted numerous specials and series. Leland also hosted the nationally syndicated television show Popcorn TV for 170 episodes as well as his very own show Leland Klassen's Comedy Tournament. As an actor, Leland was the lead in the movies "Sleeper Agent" and "Extraordinary."

Purchase through PayPal