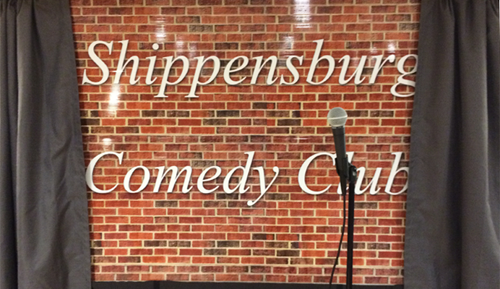 Welcome to the Shippensburg Comedy Club offering shows with nationally touring headliners. We hand pick only the best comedians who are hilarious. Shows are held at the beautiful and luxurious Courtyard by Marriott with a full bar and drink specials. We are located at 500 Newburg Rd, Shippensburg, PA 17257 right next to the Shippensburg University Conference Center.




I go to comedy clubs all the time, but I've never laughed so hard in my entire life until this show. Earl David Reed is the bomb! Jesse Blanco was also hilarious! Thanks, Seth, for bringing some life into Shippensburg!

Reply

So grateful for Seth, I think Shippensburg really needed this. I laughed so hard it hurts. What a great time, every time we go.

Reply

Just seen Earl David Reed there. This place is what shippensburg needs. I highly recomend taking in a show there.

Reply

My wife and I seen Jesse Blanco and Earl David Reed this evening great show we will return to see more shows

Reply

It was really great and a lot of laughs! It's nice having a place like this in town!

Reply

Had a fabulous time. Enjoyed the meal first..great food! Recommend to all. Laughter is truly the best medicine! Loved the interaction with the crowd! Looking forward to another show!!

Reply

Great opening show, loved Brad. I would definitely recommend this place! Dinner before was awesome as well. I will return!!

Reply

Had a great time on Thursday night. I will definitely be attending another show in the future. FCDW

Reply

Really enjoyed the show again tonight! Donna was hilarious! Laughter is great medicine!

Reply

Omg?. Hilarious. Thanks for an amazing night of laughs!!

Reply

HEADLINING SATURDAY, MAY 12 @ 8:00PM
General admission $13 + $2 convenience fee, VIP $18 + $2 in advance ($20 at the door), purchase through PayPal.
Ross Bennett is a veteran comedian and an actual Veteran, who's appeared on The Late Show with David Letterman along with countless other TV appearances. Ross was the winner of the Best Supporting Actor in A Comedy Web Series for his performance in Addicted to Show Business.

A star on Sirius XM's Comedy Channels, Ross is also a recurring guest on The Bob and Tom Show, a popular morning radio show heard by over 5 million listeners daily.

This is a clean comedy show presented by The Clean and Funny Comedy Tour.

Purchase through PayPal.


Home :: Buy Tickets :: Newsletter :: Partners :: Contact Us :: Venue