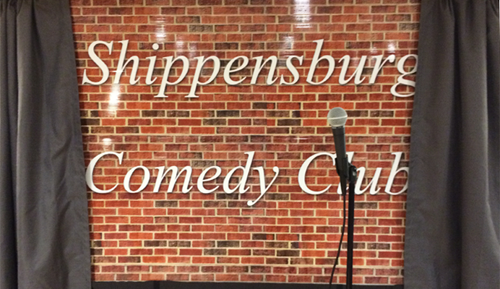 Welcome to the Shippensburg Comedy Club offering shows with nationally touring headliners. We hand pick only the best comedians who are hilarious. Shows are held at the beautiful and luxurious Courtyard by Marriott with a full bar and drink specials. We are located at 500 Newburg Rd, Shippensburg, PA 17257 right next to the Shippensburg University Conference Center.




I go to comedy clubs all the time, but I've never laughed so hard in my entire life until this show. Earl David Reed is the bomb! Jesse Blanco was also hilarious! Thanks, Seth, for bringing some life into Shippensburg!

Reply

So grateful for Seth, I think Shippensburg really needed this. I laughed so hard it hurts. What a great time, every time we go.

Reply

Just seen Earl David Reed there. This place is what shippensburg needs. I highly recomend taking in a show there.

Reply

My wife and I seen Jesse Blanco and Earl David Reed this evening great show we will return to see more shows

Reply

It was really great and a lot of laughs! It's nice having a place like this in town!

Reply

Had a fabulous time. Enjoyed the meal first..great food! Recommend to all. Laughter is truly the best medicine! Loved the interaction with the crowd! Looking forward to another show!!

Reply

Great opening show, loved Brad. I would definitely recommend this place! Dinner before was awesome as well. I will return!!

Reply

Had a great time on Thursday night. I will definitely be attending another show in the future. FCDW

Reply

Really enjoyed the show again tonight! Donna was hilarious! Laughter is great medicine!

Reply

Omg?. Hilarious. Thanks for an amazing night of laughs!!

Reply

HEADLINING SATURDAY, MARCH 21, 2020 @ 8:00PM
General admission $13 + $2 convenience fee in advance ($20 at the door), Students $6 + $2 convenience in advance. Purchase through PayPal.
The Clean and Funny Comedy Tour presents Dan Viola. You may recognize Dan from The Nashville Network and TV commercials. He has opened for legendary comedians such as Jon Stewart, Kevin Nealon, Jay Pharoah, Rob Schneider, Sam Kinison and Steven Wright. He always works clean, and has wowed audiences from comedy clubs to casinos, cruises, VFW Posts, bars, colleges, and various other venues.

As a husband and father of seven kids, Dan connects with any audience, especially those willing to think "outside of the gutter." Drawing on his background as a game show host, parent, teacher, coach, and salesman, his material is very universal.

Purchase through PayPal.



HEADLINING SATURDAY, APRIL 11, 2020 @ 6:30PM AND 8:30PM

General admission $18 + $2 convenience fee in advance ($30 at the door), purchase through PayPal for 6:30PM OR 8:30PM. (18+ Show)

Earl David Reed is a two-time Star Search winner, and has appeared on The Tonight Show with Jay Leno, HBO, Showtime, FOX's Comic Strip Live, A&E's Comedy on the Road, NBC's Friday Night Videos and Showtime at the Apollo.

Earl can also be seen on DVD as one of Bill Engvall's All-Stars of Country Comedy with comedians Larry the Cable Guy and Jeff Foxworthy. He is currently working on his reality-based TV pilot called The Secret of My Unsuccess.

The Associated Press said "He may not be famous, but he's hilarious!" The Las Vegas Review-Journal called him "...an urban Don Rickles!" And Don Rickles himself commented "This guy works the room like a Las Vegas showgirl...funny without being offensive." Earl can be heard weekday mornings on WQXA 105.7 the X on the Nipsey, Earl and Jen Shade Show.


Purchase through PayPal for 6:30PM or 8:30PM





HEADLINING SATURDAY, APRIL 25, 2020 @ 8:00PM
General admission $13 + $2 convenience fee in advance ($20 at the door), Students $6 + $2 convenience in advance. Purchase through PayPal.
The Clean and Funny Comedy Tour presents a double headliner show with Lee Hardin and Bubba Bradley, both from Nashville, Tennessee.

In addition to staring in several movies, Bubba Bradley has also been seen on MTV and CMT. He has also opened for comedians such as Jon Lovitz and Brad Garret. Fame came early to Bubba when he was voted class clown in his senior year; a title he holds in high honor even today. Drawing on material from childhood rife with family dysfunction. His material runs the gamut from powder metal factory worker to Yellowstone security guard to bouncer, allows him the opportunity to weave a highly entertaining, universally funny, down-to-earth storytelling style of comedy that you won't soon forget.

Lee Hardin has been touring the country relentlessly, performing in comedy clubs, churches, corporate events, and once on a farm for prisoners. His work on the road paid off in 2019, with the release of his Drybar Comedy special , "Not Quite A Grown-Up."

His quirky and clever approach to comedy, and his stories about Taco Bell, and being an only child with bunk beds, have led him to share the comedy stage with acts like Henry Cho, Ryan Hamilton, & Nate Bargatze. Lee has also been able to perform as a warmup act for The Mike Huckabee Show. In 2019 Lee was a Top 10 Finalist for Jeanne Robertson's national "Comedy With Class" competition.

Purchase through PayPal.


Home :: Buy Tickets :: Newsletter :: Partners :: Contact Us :: Venue